BCES students win Shelter Insurance contest, $5,000 for Family Focus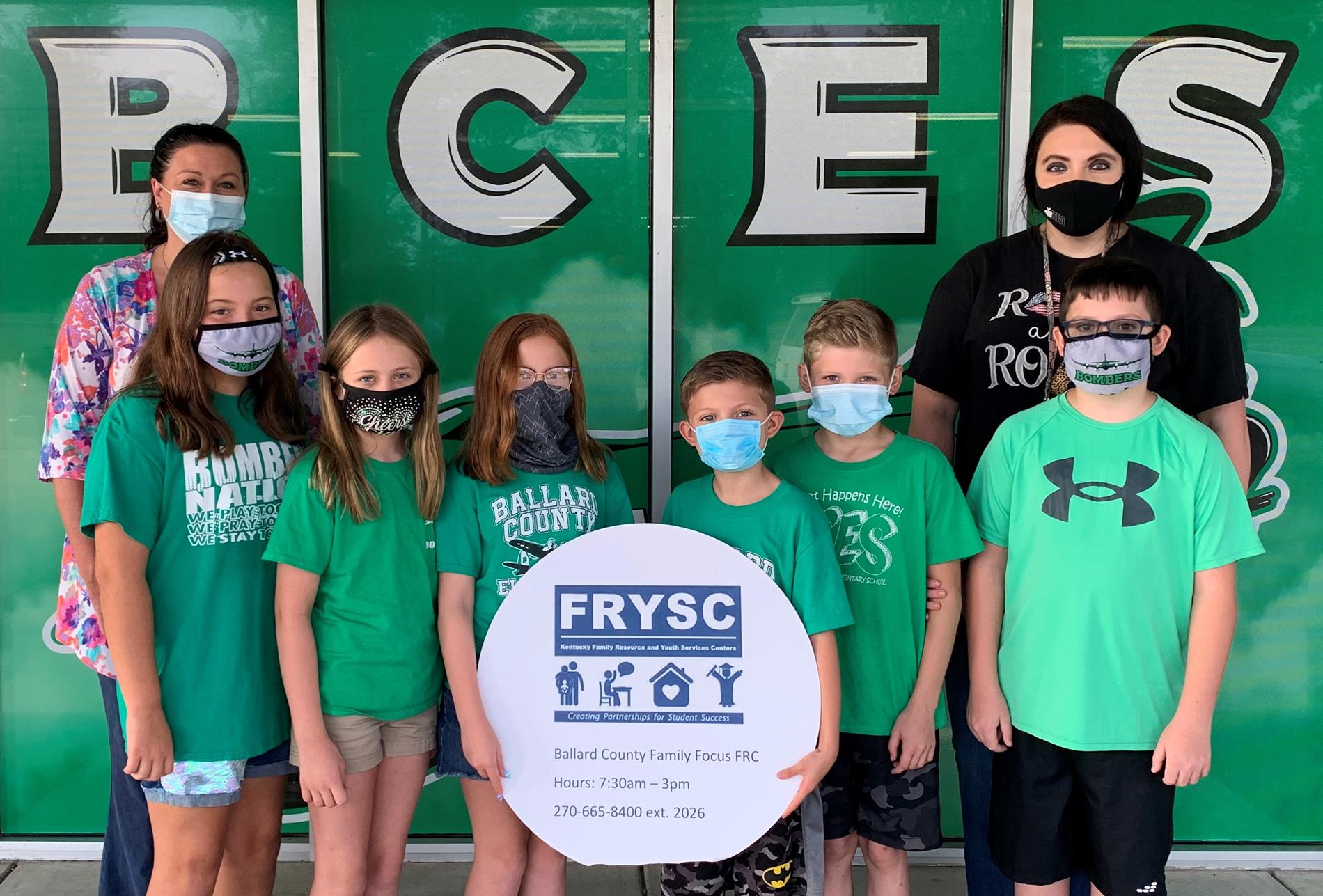 ---
Cutline: Shown from left are (back row) Shelter Insurance Agent Monica Glisson, BCES teacher Haley Overstreet, (front row) and students Klohe' Wood, Piper Hargrove, Kori Milheiser, Liem Kester, Brayden Kester, Gauge Garner. A video made by the students this summer won a national contest run by Shelter Insurance, and brought home a $5,000 donation for Family Focus Family Resource Center. (BCES photo)
A group of Ballard County Elementary School students never dreamed their summer enrichment project would be worth $5,000.
"We had done the news for years, so we had the equipment" said BCES teacher Haley Overstreet. "Our principal asked me to do a video project for the summer session. I wanted to do something to promote the community – what we have to offer, or the people here. So the kids wanted to do a commercial. They wanted more people to come here to live."
Six students, in grades from 3-5, spent a week doing research, including learning about the local economy. They used the county's website, www.discoverballardcounty.com, and broke their work into sections. The next step was talking to community members, writing the script, and planning their video shoots.
"I'm glad the kids got to see the community, and do some things they hadn't done before. They learned a lot of life skills," Overstreet said. "I'm also grateful to local businesses that allowed them to come in and film."
They didn't know about Shelter Insurance's "Thankful for Our Communities" contest while they were working on the film. Once the finished product was posted online, local Shelter agent Monica Glisson called Overstreet.
"I saw the video shared on Facebook, and immediately thought this would be perfect," Glisson said. "I reached out to Haley, and she had it entered in the next 30 minutes!" The contest asks for votes for video or essay entries, and the one with the most votes wins. The next nine entries are sent to a panel of judges, who select four additional winners, of which the BCES entry was one. Glisson said that the area had one entry before, but it was close to the end of the voting period.
Overstreet said all she had to do to fit the contest criteria was shave four seconds off the run time. She was stunned when she was notified of the win, and asked for Family Focus Family Resource Center to be the recipient of the $5,000 donation. "They do so much for our students, I thought it was a perfect way to give back," she said.
Family Focus Director Kelley Wray say nothing had been decided on how she'd use the donation. "I want the kids to have a voice in how the money is spent," she said.
Glisson added, "I am so excited for Family Focus to receive this donation. I am also thankful for Haley and her students, who created this wonderful video and used it for a great purpose!"
The video can be viewed on the BCES page of the district website, at https://www.ballard.kyschools.us/bceleme.